WACC Jubilee Souvenir Merchandize

Jubilee Souvenir Cup

Recollections from a Life Member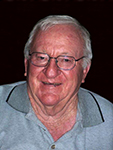 Ivan Bell was President from 1984 to 1987 and for a short period in 1989 following the death of Eric Daley, he is a Life Member and holds the Australian Photographic Societies APR Medal which was awarded in 1987. He also has a 25 year pin from VAPS.
Ivan recalls that the Club would not have got started or survived without the great work of Jack Dallinger and the good support from Foto Supplies. When he joined, the club used to meet at the old Wodonga High School in high street which was run down and basically deserted at the time.
The following are members Ivan recalls during his time at the club: Jack Dallinger; Laurie Bockman; Murt and Doreen O'Brien, Ern and Phil Hart; Olive Codling; Jim Morrison; Albert Mildren, Sylvia Muller; Linda O'Donnell; Marie Hartnett; Marie Charter; Merrill and Laurie Gay; Glen and Carol Grant; Jim Roeloffs; Bob and Mrs Nelson; Doreen Russel; Lola Kerr to name a few. (Some of these are deceased, the exact number he was unable to say).
Jubilee Community Projects
Staghorn Flat Honour Roll Restoration Project
The club was approached in early February 2013 to see if it the club could help Alf Sutherland, a 95 year old ex POW, in restoring some old photos for an WW1 Honour Board (Staghorn Flat) of the district veterans that had been destroyed by water damage. Alf is trying to recreate the board that was destroyed some years ago. (Unfortunately he had no finance for the project, so the assistance was a 'good Samaritan' favour, however they thought it was worth asking anyway).
We were asked if we could help restore some photos that were small and poor in quality to a suitable size to go onto the board. (Even if they were restored and improved just slightly so they could be used).
Our Secretary, David Woolcock volunteered WACC services as it was a good community project to be involved in as this was our Diamond Jubilee celebration year, and he felt that Alf had already paid enough in serving our nation so this exercise was definitely pro bono.
David received the first batch of photos that had been scanned in but had to get the originals re-scanned as they were too small and of a low resolution. Our President David Willis then took over the allocation of the tasks to various members in the club and they all did a surprisingly good job. David also had them printed in B&W as a further gift. We also gave them two DVD copies of the finished images showing the before and after results.
In all 30 images have now been restored and special thanks to all those club members who gave of their time and expertise in taking part in this very worthwhile community project.
Lavington Library Project
Museum and Social History Coordinator Bridget Guthrie requested the assistance of the Club to photograph locations around Lavington to support the opening exhibition at Lavington Library and the associated catalogue. They were after photographs of Lavington that help portray the Lavington identity. The Exhibition will be on display from early July at the new Lavington Library for a three month period.
Exhibition Overview: Located at the new Lavington Library for the buildings much awaited opening to the general public. The exhibition celebrates the history of this community from the Wiradjuri people to the early pioneers, to current day. Why is Prune street, called Prune street? Through interviews, historic and recent photographs, film footage, and intriguing collection objects discover why the Lavington community streets are named so and uncover the community history and strengths.
Albury & District Historical Society
In September David, Brian and Eric attended a meeting of the Albury & District Historical Society at the Commercial Club to present a presentation on the WACC History.
The Presentation was well received with Brian giving a talk on the history of our club, and David showing the following videos: Albury, Lavington, Pioneer Cemetery and Images of the Past.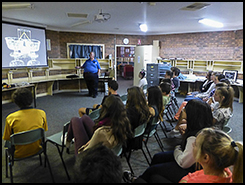 Mount Carmel Christian School
In December David and Eric travelled to the Mount Carmel Christian School in Wodonga to present a presentation on the basic rules of Photography.
The Presentation was based around their requirement from a list of categories for photography that their students could choose from, for a combined school Convention / Competition in both Monochromatic and Colour sections:
Scenic (Landscape), Still Life, Plant, Animal, Character Trait, Special Effects and Computer Constructed.
Portraiture Workshop
The workshop at the Panthers on the 19th of May was a great success with 38 members and guest attending. The Guest Speaker Professional photographer Rob Lacey gave an very informative lecture and demonstration on this subject. After Rob's main lecture he was ably supported by club Mentors, Paul, Malcolm along with Mark with the groups rotating through them for hands on workshops.
A big thank you to Rob and the Mentors and all that attended, and special thanks to those that became models during the day. Also to the members who helped set up a pack up at the end of the workshop.


Rob Lacey photographing Nichola Boyd, Images now on the Outings/Workshop page!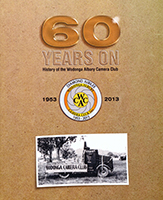 60 Years On: History of the Wodonga / Albury Camera Club
The publication of the club history. Written by Paul Temple with assistance from David Tilley and layout by Jim Roelofs.
This publication was printed in December and is available for purchase.
Top of page
Return Jubilee Page One